Unentitled (some leg work)
, Tony Orrico, 2021
Composition for Orrico's two channel video piece. Exhibited as part of his
Great Divide
exhibition at signs and symbols gallery.
"Orrico's work has reached mass circulation for its ingenuity within the intersections of performance and drawing. His work explores how consciousness and physical impulses manifest into visible forms."
https://www.signsandsymbols.art/exhibitions/great-divide
"Paranoid Architecture," Tony de los Reyes, 2020
Editing work for artist Tony de los Reyes' "Paranoid Architecture," published by the University of Gothenburg & Platform for Artistic Research Sweden. It discusses the relationship between modernism and fascist environments.
https://parsejournal.com/article/paranoid-architecture/
My weeds are opportunity
, Tony Orrico, 2020
Sound design for Orrico's single channel video work.
"Devised with the intent for dialogue, overlap and exchange,
artists & allies
is not a singular position, but presents a diverse assemble of style and substance from artists with unique sensibilities, and doubles as a snapshot and overview of our program and entry point to many of its strongest voices."
https://www.signsandsymbols.art/exhibitions/artists-allies-iii
The Poetry of Ikkyū and Ryōkan, Angel City Zen Center, 2020

Discussion on the literature and poetics of Zen poets Ikkyū and Ryōkan with the sangha at Angel City Zen Center.



I'm ashamed that my reputation has not yet disappeared
After all this dusty work practicing Zen and studying dao.
Ryōzen's true dharma has been swept from the earth,
extinguished.
A moment of inattention and the demon king is a hundred
feet tall.
—Ikkyu (1394-1481)
Sometimes I sit quietly,
Listening to the sound of falling leaves.
Peaceful indeed is the life of a monk,
Cut off from all worldly matters.
Then why do I shed these tears?
I'm so aware
That it's all unreal:
One by one, the things
Of this world pass on.
But why do I still grieve
—Ryōkan (1758-1831)
Chronotectonics
, Alien Processes: Reproduction and Time, 2020
Lecture and associated essay presented at the Alien Processes: Reproduction and Time conference in New York. Hosted by the New Centre of Research & Pracice, the Centre for Transformative Media, and the New School. Program notes:
"The intensifying intimacy between humans and technology generates "de-naturalized" relations of body, cognition and time. This bodily experience of alienation is not solely technological, but also social. While we can try to escape denaturalization and alienation, we can also consider them as autonomous processes of production and reproduction.
"Today, predictive processing determines how control is produced and reproduced technically, whether in drone warfare, high-speed trading, computerized borders, or facial recognition technologies. As attention-management, statistical parameters and machine learning emerge as nonlinear instruments, biology is no longer describable under the strict terms of biopower."
https://www.youtube.com/watch?v=hho93U9F-VI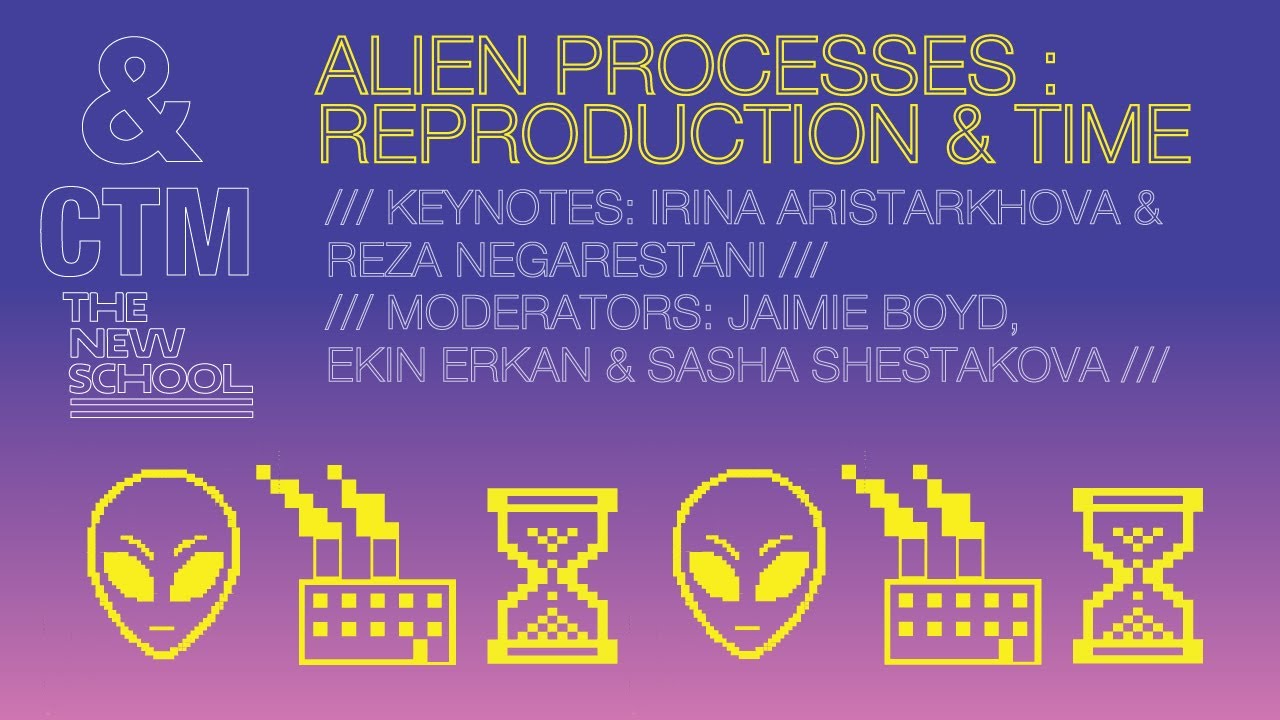 👽️